---
PrestiGia Division® was founded with the purpose of truly setting the standards in the online entertainment industry. Products ranging from film production aid, post-production mastering all the way through to beautiful website and graphics design for creators. Rule follows strict core principles, one of which is ensuring all of our clients are not only getting the most out of their service, but are having an absolute blast doing so! PrestiGia Division is a sister company of MCProhosting, LLC. Division MCN (Multi Channel Network) is a result of an extremely tailored design. While most networks are simply attempting to update their old systems, we started from the ground up with an absolutely blank drawing board. We adjusted and personalized the system to fit today's generation. We do not see our creators as partners, we see them as teammates. We give them the freedom to walk when needed, we provide powerful ad sales, a large music library, design aid and powerful analytics tools to match the demand. Every demand. Rule network is a true leader when it comes to being an innovative community based system that provides more features and tools that any creator would ever need.
---
---
---
After reloading the browser, information is sent successfully
---
---
Powered by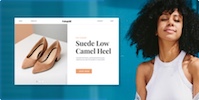 Create your own unique website with customizable templates.