---
---
ARE YOU A YOUTUBE WIZ?Social media expert? Team leader? Got the technical chops to grow a YouTube audience?If this sounds like you, then we want to help you create your own multi-channel network! Our platform has powerful tools to help you acquire talent, measure and accelerate theirgrowth,and optimize your network for PrestiGia.
But most importantly ... Your creators will LOVE your network!
---
---
Start My Network Today

Yes, that's right, you can create your very own network under PrestiGia, but first we would like to get you up to date on everything that involves running your own network.
There is a lot of responsibility that comes with being a Content Aggregator. Many people do not understand the amount of work it takes. We are therefore very selective over who can partner their network.

The following are minimum requirements needed in order for your partnership request to be considered:

• Must be 18 or older
• More than 1,000,000 monthly channel views
• Strong Marketing Skills
• Excellent understanding of Copyright
• Basic knowledge and familiarity with YouTube
• Consistent high level of professionalism

Once you have submitted your request for partnership you will be contacted by someone from the PrestiGia team. If you do not meet the minimum requirement you will not be contacted.
After reloading the browser, information is sent successfully
---
---
| | |
| --- | --- |
| PrestiGia has perfected the science of growing your audience and earnings. We give you the tools, the experts, and even the financing. | Collaborate with creators in your vertical, give and receive production help, get constructive feedback on your channel, and more! |
---

Hands-On Support

We actually answer the phones and respond to emails. And we love working closely with our creators who are serious about growth.

---

Short-Term Contract

Unlike most networks, we never lock you in long term. Our standard contract is 3 months, and you'll see a big improvement before then.
---
Powered by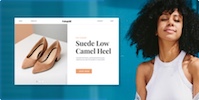 Create your own unique website with customizable templates.